Sergei Underwater
Sergei Underwater
Beauty In The Deep
Lorenzo Agius photographs the "bad boy of ballet" underwater
July 2017 | Written by Rachel Segal Hamilton
An underwater shoot had been on Lorenzo Agius' to-do list for some time, but the right moment had never come up. Until he had the chance to photograph Sergei Polunin for the November 2017 issue of Italian Vanity Fair, that is. Even if you're not into ballet, you've probably heard of Sergei Polunin. He was the rising star of the scene who, at 19, became the Royal Ballet's youngest ever principal dancer in 2010. But the pressure proved too much and he resigned from the company two years later, though not before earning a reputation as the 'bad boy of ballet' for his tattoo-covered torso and hard partying. Today, he's a permanent guest artist for the German ballet company Bayerisches Staatsballett.
"I thought, 'If I'm ever going to be able to do this shoot, it's with him,'" says Lorenzo, who's photographed some of the biggest names in entertainment – Beyoncé, Tom Cruise, Ewan McGregor, Cara Delevingne and Madonna – for leading film companies, magazines, and commercial clients. "What an amazing mover. If you see any photograph of him dancing, you see he's perfect in his pose," Lorenzo adds. "He has this incredible, sinewy body and he's very much a tortured soul. There are all sorts of metaphors to do with darkness, beauty drifting away, and sinking into water." Sergei also had the necessary discipline. "A dancer is trained from a young age and it's all about having control of your body and breath, so he just seemed to be a natural fit."
The shoot took place over three hours in July 2017, using a tank on an industrial estate in Croydon, South London. Around this time Sergei was preparing for his film debut in the period piece Murder on the Orient Express. "We decided to put him in a suit, because for Vanity Fair there needs to be that fashion element. For me this was really a portrait shoot, though. I wanted to focus on the beauty of his body and what he does, to freeze it and slow it right down – hence the water." In addition to the underwater work, Lorenzo took some portraits of Sergei sitting on the side with his wet shirt clinging to his chest and droplets falling from his eyelashes, all of which continued the watery theme.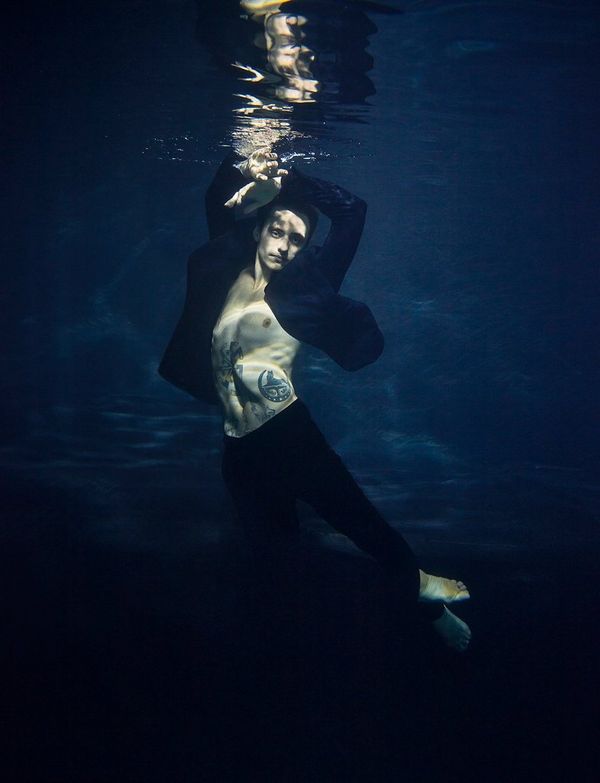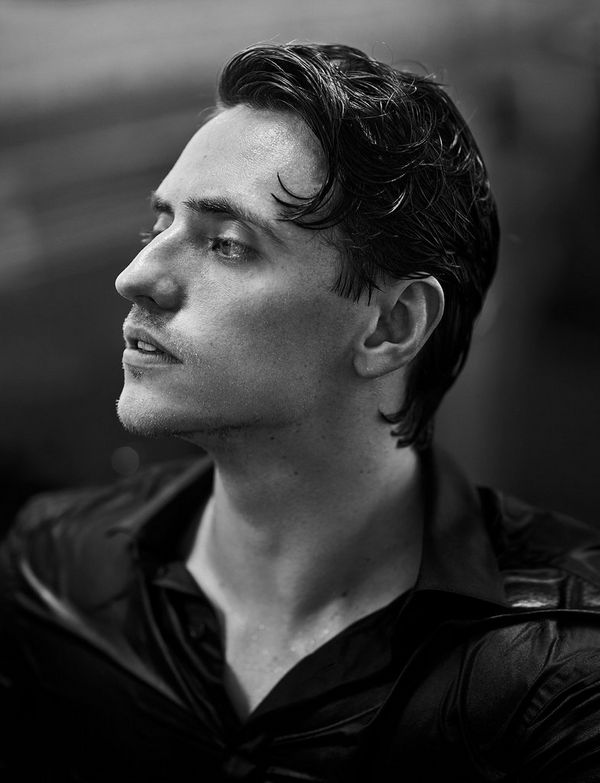 Owned by one of the UK's top cameramen, the tank – which is used primarily for underwater filming – is "like a mini swimming pool," Lorenzo explains, 4.5m by 6m and around 8ft deep, with special glass to film through. To avoid reflections, Lorenzo put his tripod-mounted cameras right up to the glass, and draped black velvet around himself. He was working with his camera of choice – a Canon EOS 5D Mark III – for the full-length shots, switching to a Canon EOS 5DS for close-ups. "I wanted maximum detail so you could see the bubbles on his skin," he says. Also in his kit bag was a Canon EF 35mm f/2 IS USM and a Canon EF 28–70mm f/2.8L lens. "If he was turning in the water, they allowed me to just get in there quickly and capture the top half of the body," Lorenzo says. The 35mm worked well, with its natural wide-angle view, and a large maximum aperture allowing for fast shutter speeds in low light.
He chose to line the tank with black tarpaulin to create the sense of an abyss. Although he had the option of using underwater lights, Lorenzo decided against this. Instead he positioned a single light directly above Sergei, which he coloured with blue gels. "I didn't want people to think it was a tank. I wanted people to think he was in the dark ocean." The fact that the water was constantly moving as Sergei moved, refracting light and creating hot spots, made lighting tricky, but Lorenzo embraced the randomness. "I wanted those shafts of light on him and on the background – I wanted it to look real."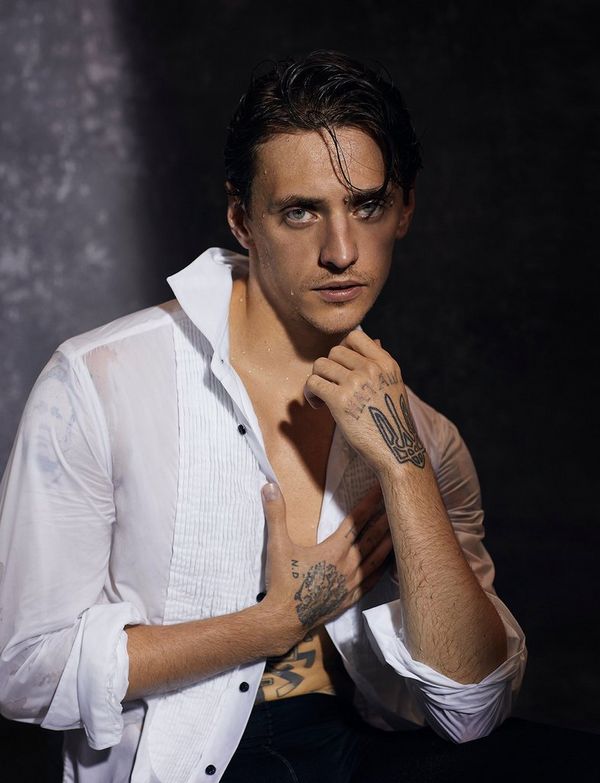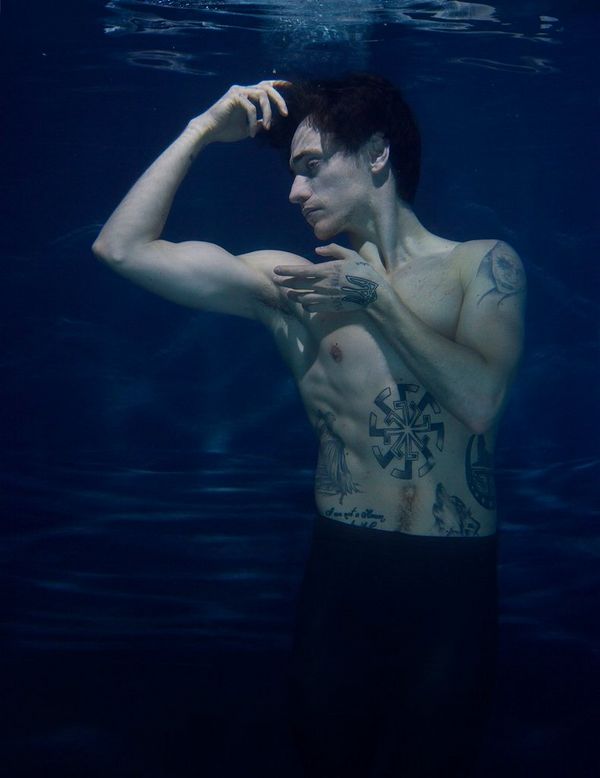 There were some challenges, however, that Lorenzo didn't anticipate. He wasn't aware that some people are naturally more buoyant than others, due to their relative density to water (muscle is denser than body fat) and the amount of air in their lungs. "It's really bizarre – it's not about whether they look fat or thin, it's just that some people naturally float. In that case you have to weigh them down, but I didn't want to [with Sergei] because you would see the weights." Instead, after discussing poses with Lorenzo, Sergei would expel every last puff of air before sinking down in the water for 30-50 seconds at a time. The lower he went, the more painful it was, which is where his stamina and persistence came to the fore. "An actor wouldn't have that staying power," says Lorenzo. "He was able to go back in over and over and over again. He was pushing himself more than I was pushing him."
Sometimes Lorenzo would get five good frames when Sergei was submerged, at other times more. Technically, it was a case of trial and error. "You have to trust the focusing and exposure systems to do their work – one minute it would be bright, the next minute dark, because you're effectively creating little waves," he says. "I knew with the equipment and the file sizes, you've got about a stop and a half of latitude – in a worst-case scenario I'd be able to pull it back, but you don't want to lose detail, so it was a case of underexposing. That was weird because it almost looked too dark, except in the spots of light that were hitting him."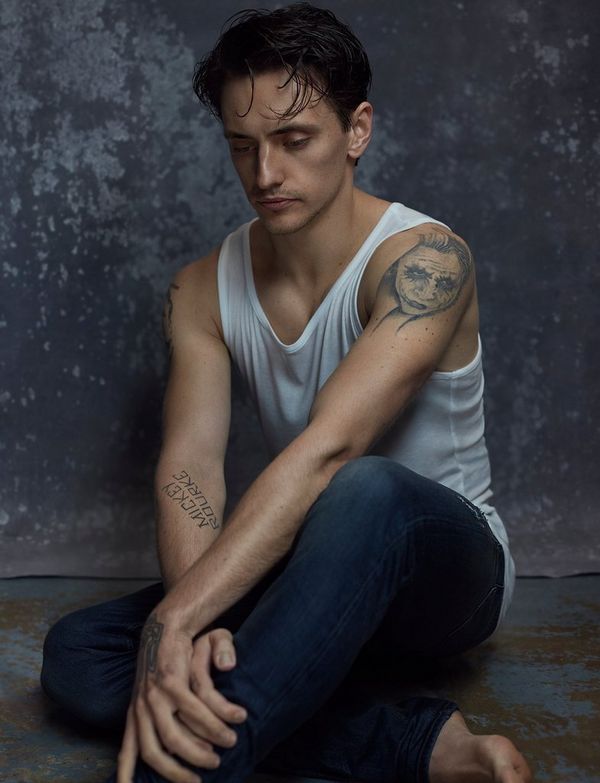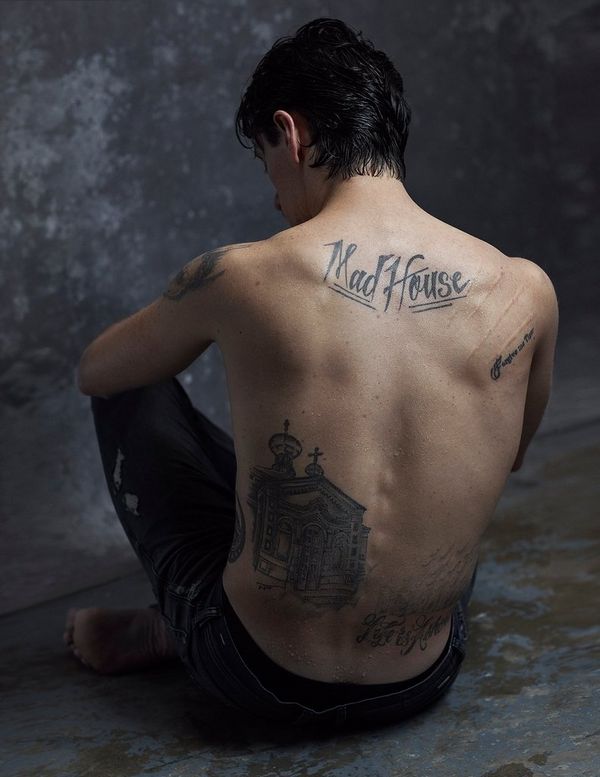 Although "a slow process", the experience is one that Lorenzo is eager to repeat. Next time, he says, he'd go for a bigger tank and he'd like to get in too, experimenting with different underwater housings available for the Canon EOS 5D Mark III. Not only would being in the water give him an advantage – being free to shoot in the environment, instead of being positioned behind glass – it would also help him to relate to his subject. "For me, most of a shoot is about communication," he says. "As a portrait photographer, I have to really connect to my subjects to get the shots. That's the most important thing. Sure, I photograph celebrities, but who cares? It's about capturing something people connect to."
"IT'S NOT ABOUT CELEBRITY. IT'S ABOUT CAPTURING SOMETHING THAT PEOPLE CONNECT TO. "

– Lorenzo Agius
Lorenzo's advice for underwater shoots
"You need to be clear with your subject, and have trust in your equipment. Talk things through with your subject, clearly and honestly. If you can convey your needs, your subject will give you what you want. If you know and trust your equipment, you can then be bold enough to go for it. For me, it was a steep learning curve and it would be for anyone doing an underwater shoot for the first time. Next time, I'll have more confidence and understand the lighting and technical issues involved. Shooting through 2.5m of water, you get refraction and distortion and all sorts of things, but the camera handled that really well. I use the Canon EOS 5D Mark III all the time – it's brilliant, it's never let me down."